Memorial and Funeral Slideshow Songs
Get advice on funeral songs and see our selection of beautiful melodies
Has your relative or friend passed away recently? Want to bid them farewell in a beautiful way? Create a touching remembrance slideshow to celebrate their life and say the words you didn't get a chance to say to them. Accompany your video with good songs to make it even more impactful.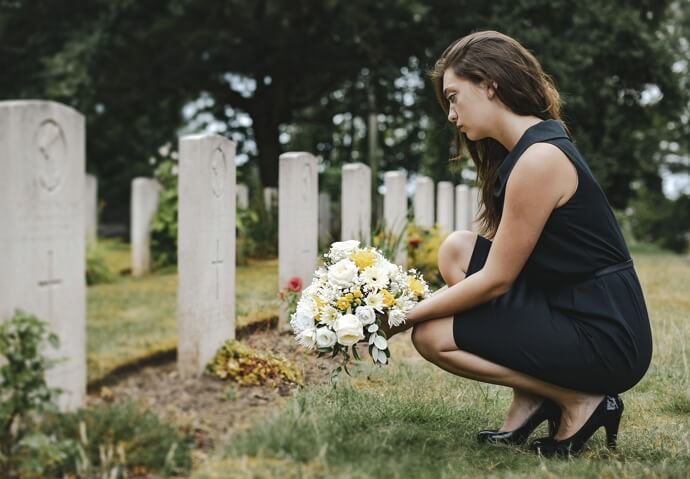 Choosing songs for funerals slideshows is a very responsible process that needs a lot of thought and consideration. That is why we are here to help you with this task and give some suggestions on how to pick a farewell song according to your relation to the deceased, their music taste, favorite melodies, and the mood you want to set for the ceremony. What's more, we will offer you a selection of beautiful music for a memorial video. For your convenience, we have organized it by categories which include both modern and old songs you might find suitable for your occasion.
How to Choose Music for a Funeral Slideshow
There are a number of crucial things you should think through before choosing songs for a memorial slideshow. Because if you select the song wisely, your slideshow will make a bigger impression on your audience and be better remembered later. Dive into our tips on choosing funeral music and make your tribute videos a treat for soar hearts:
Consider the deceased one's personality and attitude to life. Were they an utter optimist, a lover of luxury who wanted to live extravagantly, or someone who stuck to traditions? The song you choose should be able to answer those questions, reflect the kind of person the deceased was, and set the corresponding mood.


Take your relationship into account. Mind that if you are making a farewell montage for your best friend or sister, the song of your choice should probably not be about the love of a man and a woman (it wouldn't even matter how beautiful the song is). Music should be relatable and speak of the feelings you have for that person. Then, it will be a perfect fit.


Go with 1-2 music pieces. One or a couple of songs will be just perfect. No need to confuse your audience by switching melodies after each slide. Keep a single mood for the whole presentation and allow the guests to enjoy the songs fully.


Pay attention to your audience. Are the guests elder people or younger? Is it a big ceremony or just for the family? What are the common tastes and interests of your guests? Ask yourself these questions while choosing, and you will come up with the appropriate category of songs.


Find a slideshow creator with built-in music. It would make the process much easier if you could use a single tool both for making your slideshow and for overlaying music. SmartSHOW 3D slideshow program can help you with that. The software is equipped with 200+ soundtracks of various genres and moods, so you will surely find the perfect one for your video.
Need some ideas on what your tribute slideshow should look like? Watch the serene video our designers have created in SmartSHOW 3D to get a bit of much needed inspiration.
Now that you have gone over all our tips, you are ready to choose the songs for your celebration of life slideshow. Have limited time for selecting songs? Have a look at our picks below or go with one of SmartSHOW 3D built-in songs.
Best Songs for a Funeral Slideshow
The funeral ceremony soundtrack is no longer only about traditional classic songs. Now, its style and mood are only up to you and the preferences of the person that has passed away. Thus, try to choose appropriate music that will reflect the deceased one's spirit. Have not chosen the melody yet? Let's dive into the list of best songs by category and find the perfect ones for your tribute video.
Instrumental Music for a Funeral Slideshow
Was the deceased a folk musician or an amateur guitarist or drummer in love with good acoustic? Then, instrumental free-spirited songs for memorial videos are exactly what your close one would have wanted for their funeral.
Thomas Smith - "At Peace"
Mahler - "Symphony No. 5"
Dies Irie - "Ahn Trio"
Monplaisir - "Flashback"
"Amazing Grace" (Instrumental)
Popular Funeral Soundtracks
Did the deceased one love old classic melodies that most people are familiar with? In that case, popular memorial video songs like those of Sarah Brightman and The Beatles are the go-to for their memorial. Here is the selection of good songs of such kind:
Andrea Bocelli - "Ave Maria"
Céline Dion - "My Heart Will Go On"
Sarah Brightman & Adrea Bocelli - "Time to Say Goodbye"
Sarah McLachlan - "Angel"
The Beatles - "Yesterday"
Songs for an Upbeat Mood
Was your close one an optimistic and bright person who wanted their funeral to have an uplifting mood and evoke warm memories and feelings? See this selection of heartwarming memorial slideshow songs and choose the one the deceased would have liked best:
Anna Kendrick - "When I'm Gone"
Gerry & The Pacemakers - "You'll Never Walk Alone"
Emma Jo - "Your Story Isn't Over Yet"
Israel Kamakawiwo - "Somewhere Over the Rainbow"
Touching Funeral Melodies
In case your close one was a sincere and pure person who loved music with deeper meaning, these beautiful soulful songs would be perfect to honor their memory:
Bette Midler - "Wind Beneath My Wings"
Westlife - "You Raise Me Up"
Frank Sinatra - "I Did It My Way"
Donna Taggart - "Jealous Of The Angels"
Lily Allen - "Take My Place"
Have yet to start on your memorial service slideshow? Learn how to make a stunning picture video with a funeral slideshow maker in just a few minutes. Explore the program with a free trial!
Funeral Music for Parents or Grandparents
Have you lost your close elder relative after a whole life spent together? Thank them for all the good they have done with a slideshow accompanied by these lovely songs:
Ed Sheeran - "Supermarket Flowers"
Céline Dion - "Goodbyes"
Luther Vandross - "Dance With My Father"
Ronan Keating - "This Is Your Song"
Louis Armstrong - "What A Wonderful World"
Children Memorial Songs
Losing your child or a young sibling is always hard and unexpected especially if they died as a teenager or a baby. Tell your little one about your love and show them the beauty of life they didn't get a chance to see through these melodic songs:
Ed Sheeran - "Small Bump"
P!nk - "Beam Me Up"
Sunny Sweeney - "Bottle By My Bed"
The Riley School of Dance - "Shine Down"
Melodies for Beloved's Funeral
Has the love of your life left you after years of walking hand in hand? You can play the song that you associated with your couple to remind you of the good times. Or you can opt for one of these songs that will speak of all your feelings:
Wiz Khalifa ft. Charlie Puth - "See You Again"
Celtic Woman - "Danny Boy"
Josh Groban - "To Where You Are"
Hozier - "Work Song"
Steffany Gretzinger - "All That Lives Forever"
Want to find some more funeral music options for your slideshow? Have a look at the list of top memorial songs and find the best one to include in your video.
Organizing a memorial service is a difficult process in all its stages. So give it as much time and consideration as you can to make the event unique. Create your own short list of songs for the deceased funeral video that they would like their loved ones to remember them by. Think about the songs of their youth, the soundtracks that you listened to together or sang to each other. You can also choose a song from our selection of contemporary and all-time classics music. We hope that this article was helpful to you and wish you strength during these dire times.
Need music for a funeral slideshow?
Choose the best ceremonial song from the library of

SmartSHOW

3D!