Songs for Graduation Slideshows - Praise 2023 Grads
Check out lists of music for senior videos by genre, mood & institution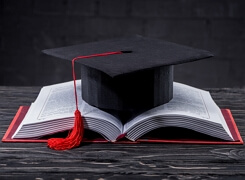 Whatever institution your kid is graduating from, it is a big moment in their life that should be properly celebrated. A sweet way to do that is to make a graduation slideshow chronicling their evolution from first class to senior year. However, such a video wouldn't be complete without a proper musical accommodation. So a question arises: what soundtrack should you use?
To make the search easier for you, we have included some tips you could use while choosing songs for a graduation slideshow. You will also find lists of our top soundtracks for 2023 grad ceremonies by category: mood, institution, genre. There will be thrilling, sentimental, and sad music; classic, pop, country, and Christian graduation video songs; soundtracks for kindergarten, mid-school, high school, and college graduation. Let's dive in.
How to Pick Perfect Graduation Songs for Slideshows
Graduation is an emotional event. To some, it means saying goodbye to a friend or a child who is moving out to study at college. To others, it is all about new opportunities and adventures. If you want your video to accurately convey what your child's, friend's, or students' graduation means to you in particular, you need to choose the slideshow song wisely. Below, we have pointed out the key things you should consider when searching for graduation slideshow songs.
Don't rely solely on your personal taste. If you are making a graduation video for someone else, try choosing a song that corresponds with their music taste. If you are a teacher who wants to make a graduation surprise clip for their class, use a soundtrack that reminds you of your students - the song your class sang or danced to together.
Read the lyrics first. Make sure you choose a soundtrack that is appropriate for the occasion. Songs might have a nice tune, but be completely unsuitable for formal events lyrics-wise. Thus, we recommend that you read the lyrics of the song before you add it to your clip.
Consider your relationship with the graduate. Who are you making your slideshow for? Your students, teachers, child, friend? Once again, read the lyrics of the song carefully and make sure it matches your relationship with the slideshow recipient.
Keep in mind the duration of your slideshow. Graduation slideshows are usually about 3 minutes long. This is the standard for most songs for senior videos as well. If your slideshow is significantly longer, we suggest you either go with several songs of similar mood or use a longer instrumental track.
Learn what it takes to make a graduation slideshow. Before you dive into choosing the perfect song, you should be familiar with the process of creating a graduation slideshow. Many programs can help you create cool clips. However, not all will allow you to accompany your video with your own music, and the creative process is different for each one. Thus, do your research on the perfect software in advance.
Haven't come up with a concept for a graduation video yet? Have a look at a beautiful clip made for a high school graduation to get your creative juices flowing and help brainstorm new ideas.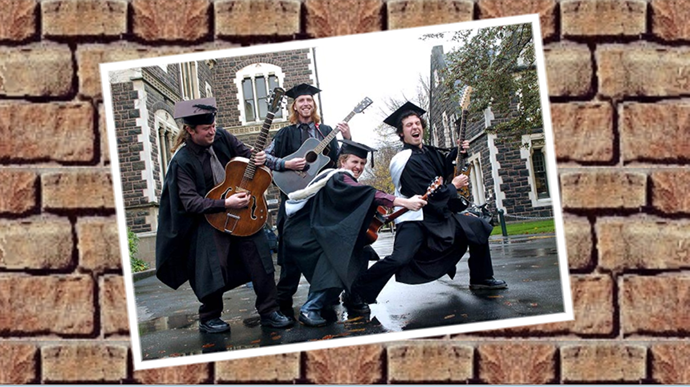 This video clip was designed in SmartSHOW 3D, an automatic slideshow maker. The program is equipped with tons of themed templates and artistic effects. Such a package will help make celebrative videos in no time. Besides, the software has a library of 200+ royalty-free soundtracks. Want to add your own music for graduation videos? In SmartSHOW 3D, you can do that as well. Once your surprise clip is complete, use one of the program's 30+ export options to save it in the best quality. Download the free trial of this powerful program and get a glimpse of its capabilities.
Download free

Settled down with SmartSHOW 3D? It is time to choose the perfect soundtrack for your video. Below, you will find playlists of songs for senior slideshows by genre, mood, and institution the slideshow recipient is graduating from. You may either skip to the needed category right away or check out all the playlists to discover new melodies and artists.
Best Songs for Graduation Videos - All Popular Genres
Is there a particular genre of music you want to use in your slideshow? In this section, you will find the best songs of every popular genre for your graduation video - from the good old classics to less formal tracks.
Best Graduation Songs of All Time
If you are having a hard time choosing a song for your senior slideshow, then it would be best for you to go with one of the widely known soundtracks. These have rung at thousands of graduation ceremonies worldwide and have celebrated millions of graduates. So the chances that you have heard them at least once are pretty high.
Journey – Don't Stop Believin'
Vitamin C – Graduation (Friends Forever)
Tom Cochrane – Life Is A Highway
The Beach Boys – Graduation Day
Queen - We Are The Champions
Pop Songs for Senior Videos
Accompany your slideshow with a popular song so everyone can sing along and enjoy themselves. In this section, you will find graduation music that is on the tips of everyone's tongs.
Wiz Khalifa feat. Charlie Puth - See You Again
Nico & Vinz - Am I Wrong
Natasha Bedingfield - Unwritten
Katy Perry - Firework
Flo Rida - Good Feeling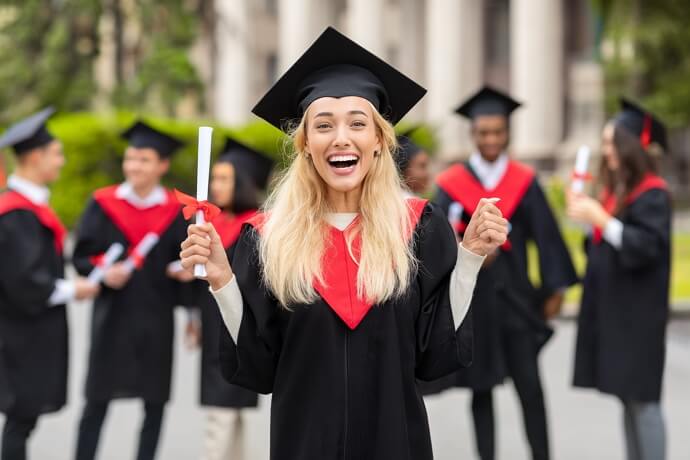 Best Classical Music for Grad Clips
Prefer to accompany your graduation slideshow with classical instrumental masterpieces? Then you will find some great option among the magnificent soundtracks by famous composers below.
Walton - Crown Imperial (Coronation March)
Edward Elgar - 5 Pomp and Circumstance Marches, Op. 39: No. 4 in G Major
Giuseppe Verdi - Aida: Grand March (Triumphal March)
Handel - Music for the Royal Fireworks: Suite HWV 351 - 4
Christian Songs for Senior Slideshows
Are you making a graduation slideshow for a Christian school or is your family very serious about their faith? Check out our selection of the best songs to celebrate the graduate and praise God.
Kelly Clarkson - Breakaway
Michael W Smith - Place In This World
Brandon Heath - Wait and See
Third Day - Ready
Michael W. Smith - Friends are Friends Forever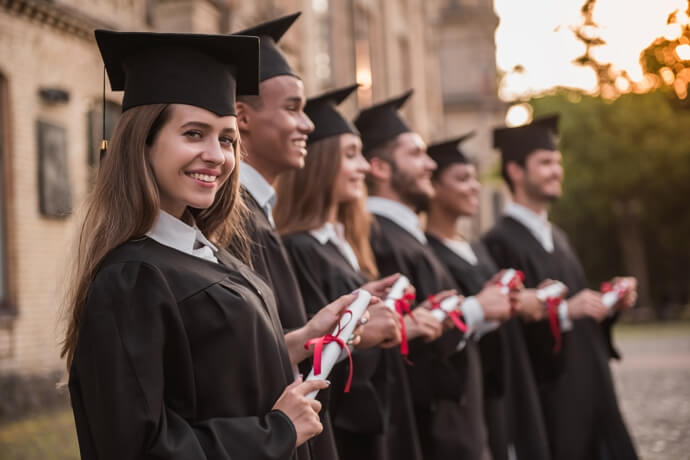 Modern Soundtracks for Graduation Videos
This playlist is for those who want to make their graduation videos youthful and fill them with excitement. The songs below are perfect if you are making a surprise slideshow for your peer, friend, or high school sweetheart.
Coldplay – Adventure of a Lifetime
One Direction – History
Taylor Swift - A Place In This World
Jason Mraz - Have It All
Country Music for Senior Slideshows
In case you want to make your slideshow feel free-spirited and touching, try going with a country song. Such music is associated with deep feelings, sincerity, and freedom of the soul.
Kenny Chesney - Don't Blink
Trace Adkins - You're Gonna Miss This
Rascal Flatts - My Wish
Brad Paisley - Letter To Me
Still deciding what editor to use for your graduation video? Create an engaging clip with photos in a feature-packed slideshow maker. Try the program for free!
Good Graduation Slideshow Songs by Institution
Want the slideshow song to be appropriate for the institution your child is graduating from? Here you will find our suggestions of soundtracks your child will truly enjoy by graduation type.
Songs for Preschool Graduation Slideshow
Going to preschool is the first "big-kid" thing a child does in their life. Thus, their preschool graduation is a very meaningful event that should be celebrated properly. The preschool graduation songs below will help you do that.
Patty Shukla - Thank You
The Orchard Enterprises - We're Moving up to Kindergarten
Randy Newman - You've Got a Friend in Me
Dr. Jean - May There Always Be Sunshine
Kindergarten Graduation Video Soundtracks
The transition from kindergarten to school is a big step. That is why your kindergarten graduation video could use some motivational spirit to inspire the little graduate to take it. The kindergarten graduation slideshow songs from popular cartoons will do the trick.
Sesame Street with Will.i.am - What I Am
Mena Massoud, Naomi Scott - A Whole New World
Roger Bart - Go the Distance
Phil Collins - You'll Be in My Heart
Phil Collins - On My Way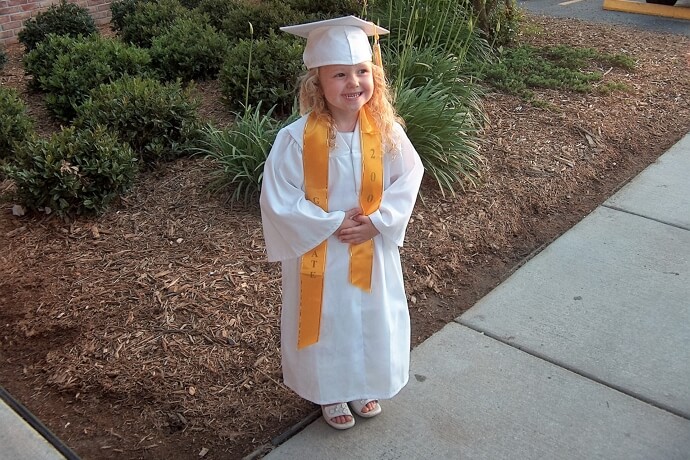 Music for Middle School Senior Clips
Graduating from middle school means becoming a young adult since there are so many important choices that are awaiting ahead. But this doesn't have to be stressful. Here is a list of good songs for your graduation slideshow for middle schoolers to make the show exciting.
Lee Ann Womack - I Hope You Dance
Avril Lavigne - Fly
Taylor Swift - Never Grow Up
The Greatest Showman Cast - A Million Dreams
High School Graduation Video Songs
To many, high school graduation means leaving the college entrance exams behind, saying goodbye to friends and classmates, leaving home for college, and entering adulthood. Make your farewell remarkable with the songs for the high school graduation slideshow from our playlist.
Vitamin C - Graduation (Friends Forever)
Green Day - Good Riddance (Time of Your Life)
Imagine Dragons - It's Time
Shawn Mendes - Something Big
Ornella Barberio - Coronavirus School Year
Soundtracks for College Grad Slideshows
College graduation opens a door to adult life as it is - career, traveling, relationships, kids. Students become professionals in their field after years of studies. Let's celebrate all the effort put in to reach this day with a college graduation song.
Nickelback - Photograph
Baz Luhrmann - Everybody's Free (to Wear Sunscreen)
Eve 6 - Here's To The Night
Billy Joel - Vienna
Macklemore feat Kesha - Good Old Days
Need to make a graduation video for showing on a big screen at the ceremony? Check out a helpful tutorial on how to create an HD slideshow to make sure your video looks good when projected.
Music for Graduation Videos by Mood and Vibe
A good song plays a big role in setting the mood of the slideshow. Depending on the vibe of the upcoming graduation ceremony or your own emotions and preferences, you can choose a perfect soundtrack that will convey the needed message. Check out our playlists of senior slideshow songs for any possible direction you might want to go with your slideshow.
Upbeat Songs for Graduation Videos
Want the ceremony to be nothing but optimistic and reviving? See our selection of graduation video songs that will empower the graduates for new deeds at the new stages of their lives.
Jason Mraz - Have It All
Wiz Khalifa - When I Grow Up
American Authors - Best Day Of My Life
Bon Jovi - It's My Life
The Script - Hall of Fame
Happy Graduation Songs for Your Slideshow
Want to make your graduation clip funny and engaging? Accompany it with a song from our list to correspond to your or the graduate's natural feelings about the occasion or to make the slideshow even more humorous.
Pharrell Williams - Happy
Jennifer Lopez - Let's Get Loud
Pentatonix - Sing
Alice Cooper - School's Out
Motivational Soundtracks for Graduation Slideshows
Want to emphasize the meaningfulness of your kid's graduation? One of the inspirational songs for a graduation slideshow from our playlist will help you accomplish that. Each one of them has a deep meaning and a true life story to it.
Miley Cyrus - The Climb
My Chemical Romance - Sing
Selena Gomez & The Scene - Who Says
Lady Antebellum - Compass
Shakira - Try Everything
Want everything about your surprise graduation video to be perfect but have never created one before? Learn how to make a slideshow on your computer - the 4 best ways that will suit people of all skill levels.
Sad Music for a Graduation Slideshow
Feel a bit sorrowful that your little one is not that little anymore? While graduation is a positive occasion, it never hurts to spice it up with some true feelings. A beautiful song from our list will help convey the feelings that you haven't found the words to explain yet.
The Beach Boys – Graduation Day
Sarah McLachlan - I Will Remember You
Rihanna - Farewell
Jhené Aiko - Eternal Sunshine
Paramore - Future
Sentimental Graduation Video Songs
Plan to make an emotional video for the graduating class to make them realize what a wonderful time of their lives they have lived through? A sentimental song will add up to the effect of your video and make the graduates feel more connected.
Jim Croce - Time In A Bottle
Amy Grant - I Will Remember You
Justin Bieber - Purpose
Jonathan Larson (RENT Film) - Seasons of Love
Bruno Mars - Count on Me
Now that you are through our list of best songs for a graduation slideshow, you have 70+ musical options to choose from. Use the advice we have given as you decide which graduation theme to go with for your slideshow. If it's your first time making a senior video and you don't feel too confident about your capabilities, equip yourself with SmartSHOW 3D. Its Video Wizard will take you through the whole creative process in no time. Anyway, we hope that your graduation slideshow will be something to remember.
Need a perfect soundtrack for your senior video?
SmartSHOW

3D has tons of free songs for graduation slideshows you may use!