Winter Slideshow to Set a Festive Mood
Welcome the holiday season with a snow-swept slideshow
It's that season again, when the land is covered with a thick white blanket and the magic is flowing in the air. Celebrate winter by turning your seasonal images into a winter pictures slideshow. You can create a Xmas-themed video or a movie comprising images of winter scenery. Just have a look at this slideshow! Maybe you would want to create something of the sort?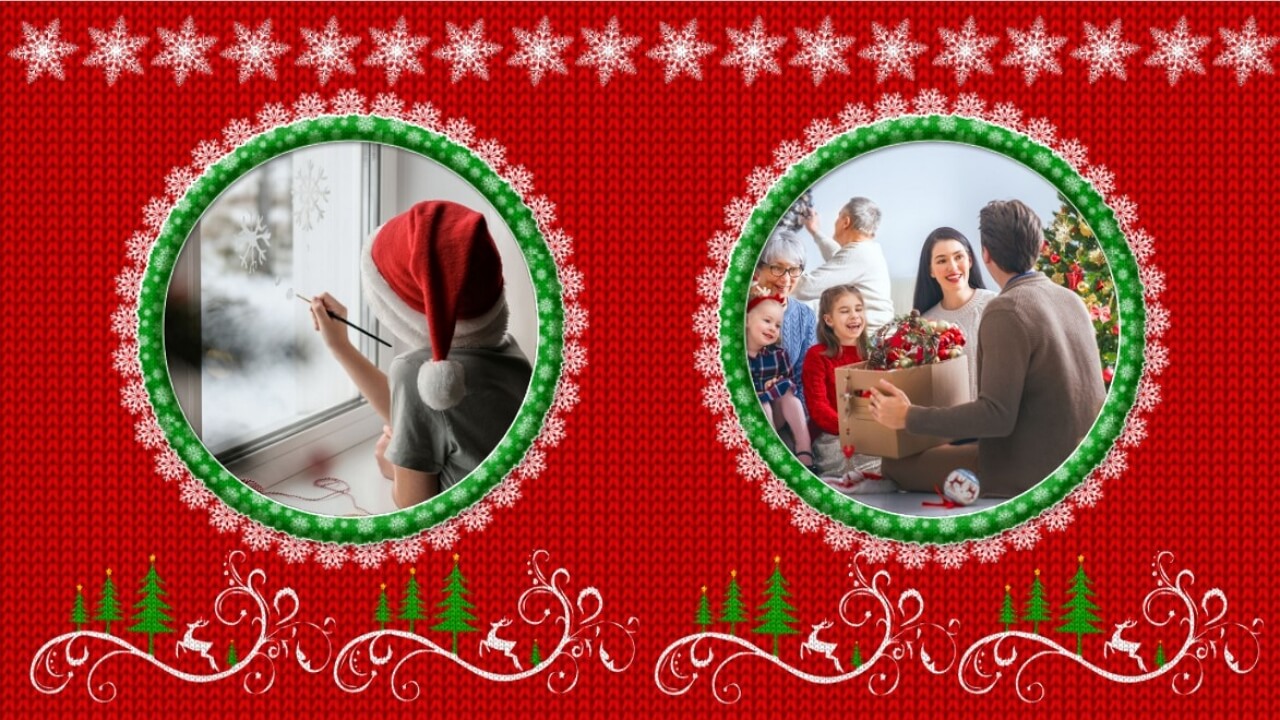 What do you feel about this winter scenes slideshow? Want to create something just as magical? You can if you use SmartSHOW 3D. This slideshow maker gives you all the tools for it - a collection of winter slideshow templates, over 400 effects, transitions, and animations, and instruments to create your own motion paths. The program is so intuitive that a first-time user will be able to master it in virtually no time. Eager to try SmartSHOW 3D yourself? Then simply hit the button below to start your free trial.
Download free

Now, let's dive into the world of slideshow making and create an awesome winter-themed video to send to your friends as a greeting card.
How to Make a Magical Winter Slideshow
Ready to get creative? Then let's have a look at how to use SmartSHOW 3D to make a sweet winter-themed video.
Step 1. Once you run the software, you'll have a choice of going with a built-in template or creating a project of your own. The first option will allow you to make a video in mere minutes, while the second option will give you complete freedom to animate your photos as you see fit.
Step 2. Now add your images to the project. You can go either with winter landscape, photos from your walk in a snow-covered forest, or pictures from a holiday family gathering. You are free to add videos too as they will bring so much life to your slideshow.
Step 3. It's time to accompany your slideshow with music. If you have a collection of go-to songs, use them for your slideshow - as many as you want. Don't have your mind set on a particular soundtrack? Then use one of 200+ built-in tunes from SmartSHOW 3D library.
Step 4. It wouldn't be a winter slideshow without some sweet realistic snow effects. Liven up your photos with gently falling snowflakes or intense blizzards - all depending on your photos. All these effects are easy to apply and are highly customizable.
Step 5. Now that your winter holiday slideshow is done, export it to wow your audience. You can save your slideshow as a video for TV if you want to show it on a big screen during a family get-together. Export your project as a video for social media to post it for everyone to see. SmartSHOW 3D has over 30 export profiles, so you are sure to find the perfect option for you.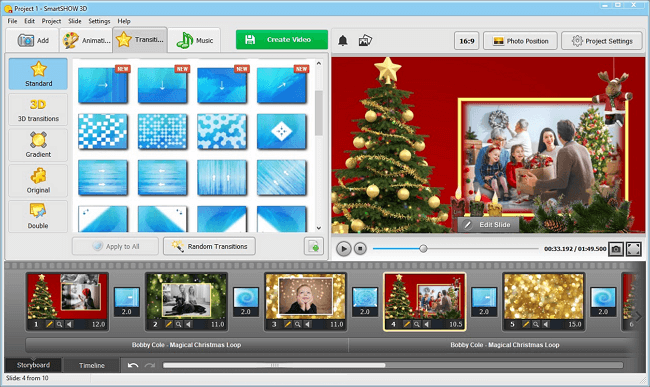 So you see, all you need to create a magic-filled slideshow are your festive or snowy photos, lovely music and a winter slideshow template. So don't let your spectacular photos lie idly on your phone or hard drive. Turn them into a visually stunning winter slideshow to celebrate this enchanting time.
Want to create a winter slideshow?
Get started with

SmartSHOW

3D!