Best Animoto Alternatives in 2023
Powerful Programs That Are Better Than Animoto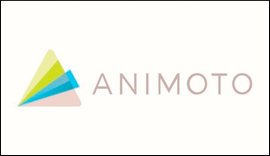 Do you like making videos with your photos or just want to try it out for the first time? It doesn't matter if you are skilled at creating presentations or just a beginner - you will need good software to actually make videos anyway. Many people suggest Animoto. Not surprising since it's a simple and easy to learn online service for creating video slideshows. However, despite its pluses, not everyone likes a web-based design and monthly subscription. So, are there any decent alternatives to Animoto?
There are! We did all the hard work for you and gathered a few additional routes to your dream destination called an "awesome video slideshow". Read on to find great Animoto alternatives on Windows, Mac, iOS and Android.
1. Animoto Review
Animoto is an online slideshow editor that lets you mix photos and videos together. It's pretty simple and aimed for people who need to make a cool video without any hassle. You can use pre-made templates that are organized into themed groups or build your own projects. Although the animations are pre-designed, you can still create something unique. What's more, Animoto uses a storyboard approach with large previews, so you can easily navigate and manage the slides.
The greatest advantage that most of the Animoto reviews point out is the following. Since this software is web-based, you don't need to worry about the disk space: everything is stored under your personal account. And even if some glitch happens, you will always be able to come back to your projects. When you're done, you can produce your video in MP4 with the quality up to 1080p or share it via social media.
The subscription plans are the following: Personal ($5/mo), Professional ($33/mo) and Business ($49/mo).
Now, what alternatives to Animoto can we suggest?
2. Best Alternative to Work Online
If it's a web-based platform that you're seeking, then this one's for you. Magisto is an online video editor that allows you to create presentations pretty easily. The design and workflow is the same: it's a website like Animoto where you add videos and images, music, pick a template, click Finish and enjoy the result. If you're not really skilled at beautifying your creations, Magisto suggests plenty of ready-made templates and editing patterns, as well as stock photos and videos which will help you enrich the presentation.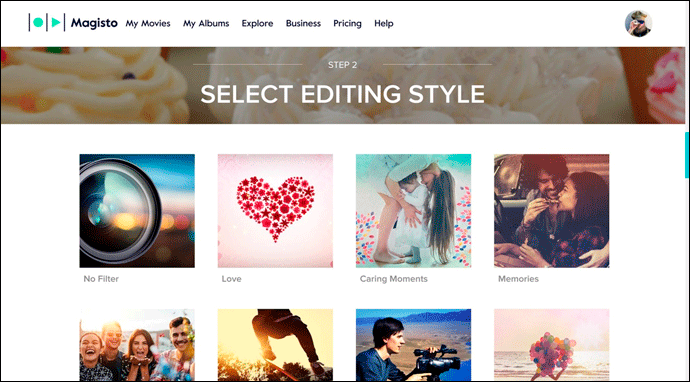 Store projects online
Free video and image stocks
Pre-made templates and effects
Extremely easy to use
Can't access without Internet
Some options are not free
Few output options
Need a presentation done really fast? Want to spare your hard drive space? Then Magisto is the best choice for you. A few clicks - and your video is ready to be viewed and shared. However, to get on this easy track, you will have to purchase an annual subscription. Otherwise, you might find Magisto lacking some crucial possibilities.
Currently, you can purchase the subscription at $4.99/mo (Personal), $9.99/mo (Professional) or $34.99/mo (Business).
Is PowerPoint your to-go choice when it comes to presentation makers? Want to try something new? Then read our reviews of the
best slideshow presentation software
and choose the one that will suit your needs.
3. Best Animoto Alternative For PC
Sometimes you don't have any Internet access or it's too slow, and a web-based design is not an option. Perhaps, you don't want to upload and edit your photos online due to privacy concerns. So are there any standalone programs similar to Animoto? Sure there are!
SmartSHOW 3D is an easy to use video slideshow maker for PC that can handle both clips and still pictures. When you start the software, you can choose whether to create a custom project or use a ready-made template to save time. They are divided into themes, so it doesn't matter what occasion you're making the video for - you will always find a suitable template. Overall, there are roughly 600+ templates & effects for quickly juicing up your projects.
Unlike other Animoto competitors, where you have to pay for adding a personal touch, here you can modify your project as much as you like: change the order, add 3D effects, work with slide layers, record voice comments or even make custom slideshow animations. When it comes to output and sharing capabilities, SmartSHOW 3D lets you create videos in 30+ formats, including YouTube and Facebook.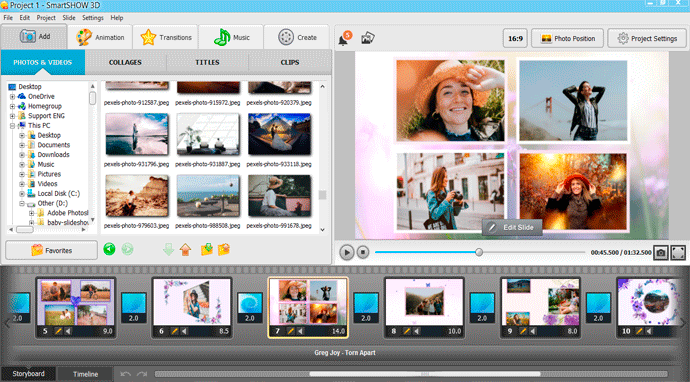 Lifetime license
"Slideshow in 5 minutes" option
200+ royalty free music tracks
Realistic 3D effects and animations
Add voice comments to a separate track
No direct sharing to social media
Doesn't support RAW photos
When you compare Animoto vs SmartSHOW 3D, you see that you have much more freedom in creation, without any annual fee. This helps your videos to really stand out and be unique. Still, you don't have to be skilled at video editing - in SmartSHOW 3D, every tool is at your fingertips.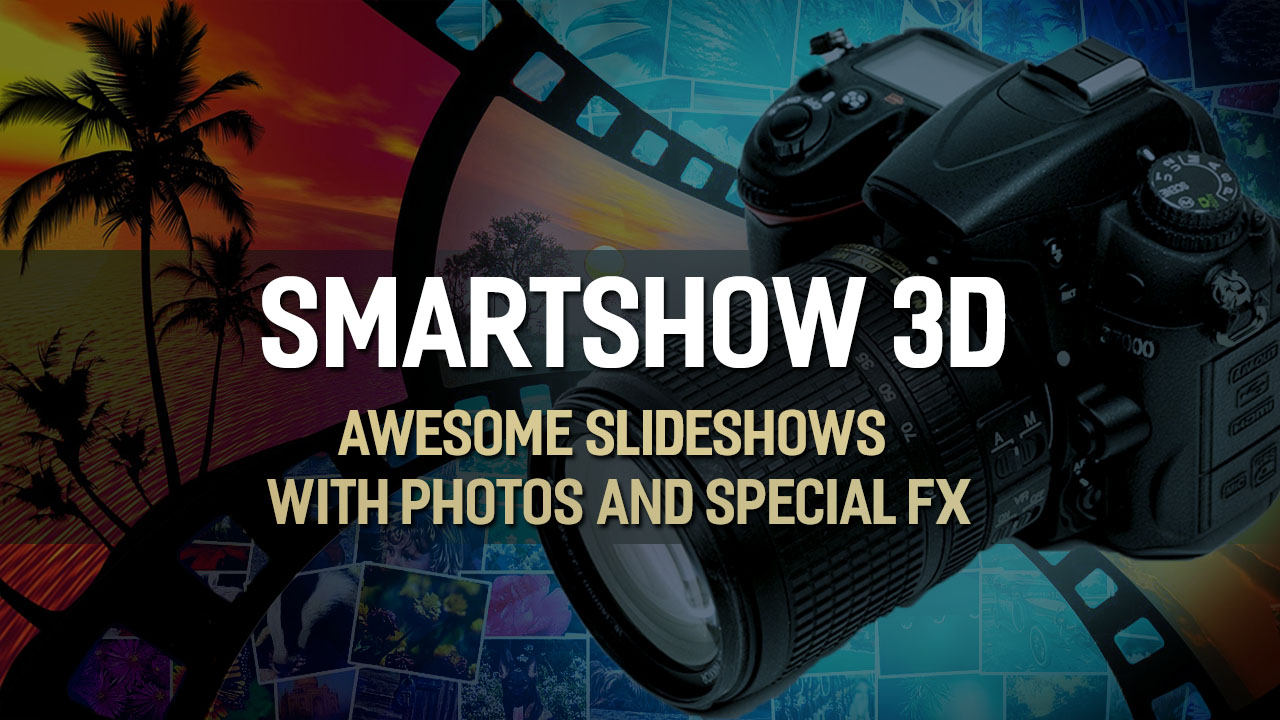 SmartSHOW 3D has a free trial version that you can download and check out before purchasing the full version:
Download free

The latest version is v.12.5, you can choose between two license options: Standard ($39.90) and Deluxe ($59.50). The first has all the essentials for making a photo slideshow, the Deluxe version allows you to add video clips and prettify your works using a larger effects pack.
4. Best Animoto Alternative For Mac
Prefer using Mac over Windows? This platform also has some programs like Animoto. Take a look at iMovie. Many users forget their Mac devices have this software pre-installed. However, iMovie can become a worthy competitor to popular but complicated video editors like Sony Vegas or Adobe Premiere. So, yeah, first of all, this program is easy to use: the interface is not cluttered and everything is hidden under buttons and tabs. New users will like pre-made templates for trailers and animations. Pros will enjoy using several video tracks together with unlimited tracks for audio. There are some awesome features like chroma key, picture-in-picture mode, fading audio at certain keyframes, adjusting white balance and contrast for videos.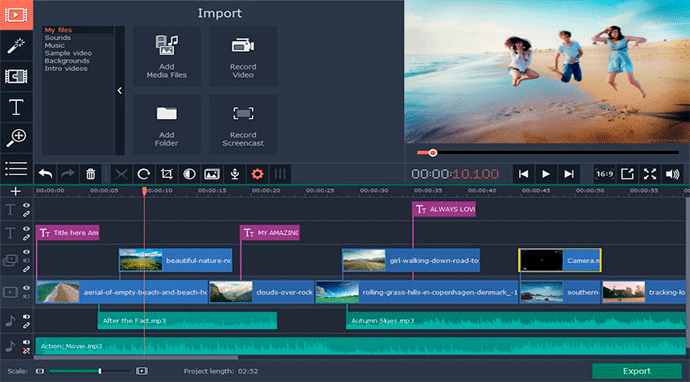 Supports 4K videos
Shares projects between iOS devices
Supports graphic overlay
Some features are hard to find
Only two video tracks
Poor output options
So, if you are up to simple projects without complicated montage or a bunch of super effects, then you can definitely stay with iMovie. It has all that a common user needs: templates, effects, neat interface and a few guides on the official website.
The current version is v. 2.2.7 and it's free to use.
Want to share your immense photo collection with your friends? Then find out
how to make a Facebook slideshow video
. Create your slideshow, then post it on your page - this is the easiest way to showcase your creation to your dear and near.
5. Best Alternative to Animoto For Mobile
Have lots of business trips or just like to be on the move? Then you probably switch between your devices rather often: from desktop to laptop, from laptop to mobile. What to do when you need to finish a project but all you have is a mobile phone? There is a good Animoto alternative that can help you with this problem. Check out WeVideo! It's a cloud-based video editing program that works both on Windows, Mac and mobile platforms. Since everything is stored in the cloud, you can access and edit your projects from any device. You can get WeVideo for Android or WeVideo for iOS.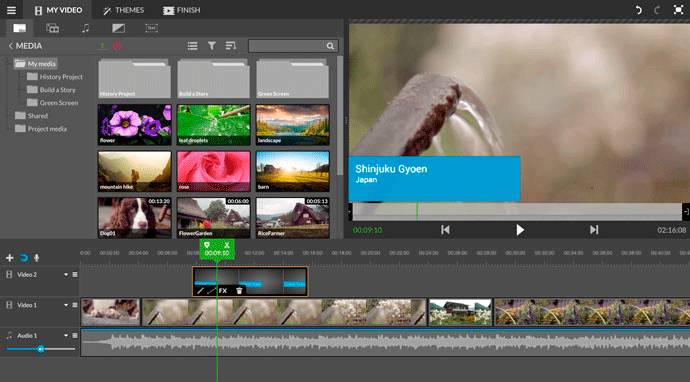 Cool motion titles
Share to Facebook, YouTube, Dropbox
Unlimited tracks for video and audio
Preview in a low resolution
Depends on your Internet connection
Poor color correction options
This program has all the basic features of a decent video editor plus some special tricks. For example, the editing and processing is done not on your device, but the WeVideo servers, and this speeds everything up. What's more, you can start editing your videos while they are uploading to the cloud. If you work in a team, WeVideo lets you give access to your projects and videos to other users.
There are three plans for the current version 6.19: Power ($ 4.99/mo), Unlimited ($ 7.99/mo) and Professional ($ 17.99/mo). There is a free membership with some limitations as well. If you work as a team, you can purchase a Business license that will cost you $ 29.99/mo.
Conclusion
So, here you go! We suggested several programs that can replace Animoto depending on your goals. If you need something really similar, then check out Magisto - a web-based platform with different subscription plans and free stocks. Looking for more possibilities? Go for SmartSHOW 3D then! Lots of totally customizable templates, realistic effects and output options. Need to transfer your projects to other device? Choose WeVideo and cloud storage. Anyways, we hope our guide will help you make the best decision!
Looking For Animoto Alternative?
Check Out

SmartSHOW

3D!