Best Slideshow Presentation Software 2023
Top 10 Powerpoint Alternatives You Should Try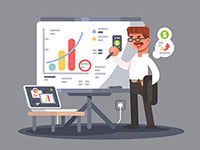 Today slideshow presentations are the essential part of school lectures, business speeches and church services but not all of them use engaging visuals to make an impact and grab the viewer's attention. Try to remember how many times you had to sit through frustrating slides packed with dense text and cheesy transitions that did a poor job delivering new information. If you're sick and tired of templates with endless bullet points and want to share your ideas in a more creative manner, you should test the slide presentation programs from the list below.
Here we've compared top 10 programs for making photo presentations and shared our thoughts on their pros and cons. Keep on reading this post and you'll learn what features make presentation software really cool and what program you should choose for different types of speaking engagement.
Looking for a 2-in-1 program to make professional presentations and create awesome slideshows for your whole family? Try SmartSHOW 3D absolutely for free! You'll get 570+ animated templates & 3D effects, more than 100 slide backgrounds, over 200 royalty-free music tracks, and much more creative options. Download SmartSHOW 3D free trial today!
What Makes Great Slideshow Presentation Software?
To create an interactive, yet informative presentation without PowerPoint, you'll need software with great functionality that fits your budget and can fully realize your ideas. There're plenty of such programs in the market. To spare you the agony of choosing, we've picked the main factors to consider when looking for the best slide presentation software:
✔ Easy-to-use: Even users who aren't tech savvy should be able to handle software and learn to use it on the go.

✔ Ready-to-go: With proper software, you won't have to create a presentation from scratch especially when you need to make a decent project in just a few minutes - it should offer you a large number of templates, images and other media.

✔ Shareable: For the needs of collective work, you should be able to share presentations with other users and edit them simultaneously.

✔ Cost-effective: It's always better to find software with sufficient functionality where you won't have to overpay for the features you don't even use.

Eager to know what slide presentation software meets all these expectations or at least most of them? We're about to introduce the most promising candidates.

1. SmartSHOW 3D

Modern presentations are no longer separate slides you click through one at a time. With SmartSHOW 3D, you'll be able to make an animated video that can auto-play during your whole speech. This slideshow presentation program offers you lots or pre-designed templates, animation presets, a collection of different backgrounds, a virtual camera to move over the slide, ready-made text styles, and places much more tools right at your fingertips.

User-centered interface
"Slideshow in 5 Minutes" option
Eye-catching 3D animation
180+ themed titles and templates
Wide range of pre-designed text styles
Transfer slideshows to another PC

Some effects are old-fashioned
Slow creation of large projects

Want to see SmartSHOW 3D in action? No problem! Watch the demo video below and see all the creative options this slideshow presentation software offers you.

Many slide presentation programs seem to be OK until you've used every single template in their arsenal. With SmartSHOW 3D, you will never face such a problem! This software comes with an endless number of slide presentation templates. Get access to almost 200 slide packs for professional portfolios, animated photo movies, school activities, and much more. The choice is yours!

Download free

2. Prezi

This web-based tool will be an ideal choice for those tired of standard slideshows made in PowerPoint or Keynote. Prezi lets you create heavily animated and non-linear presentations in the form of a mindmap with your points and graphics nested inside. While you're giving speech, your Prezi-driven presentation will zoom in to focus on some particular details to accompany your story, then zoom out and back into a different point as you move on.

Storytelling-driven presentations
Lots of templates for different projects
Seamless collaboration among your team
Free for public presentations

Web version needs the Internet
Complex editing process

3. Adobe Spark

Adobe Spark deserves credit for being simple as ABC and yet providing more creative options than traditional PowerPoint. Just the same as Prezi, this presentation creator can be used right on the official website, so you don't have to download and install anything. All in all, Adobe Spark allows you to create web stories and animated videos that can serve as seamless presentations running without your constant control.

Simple step-by-step project creation
Integration with free photo stocks
A wide variety of layout sizes and forms
Instant preview on any stage of creation

Only 24 video preset templates
Unremovable watermark
Limited editing options

Want to make your presentation so engaging that everyone would watch and listen to it with great interest? Find out how to make video collages on a PC to create highly informative animated presentations.

4. Google Slides

It works much like PowerPoint and other slide presentation websites, but Google Slides is a real champion when it comes to collaborating with your colleagues or like-minded fellows. This time you can really work together on the same project right in your browser and get prompt feedback from your team members. Select a theme for the slideshow, then add standard slide layouts and insert text, graphics, and slide transitions from the menus.

The best option for collaborating
Support for PowerPoint projects
Cloud-based archive of presentations
Completely free for everyone's use

The lack of advanced features
Need a stable Internet connection

How to make an educational presentation? Of course, you can do it in PowerPoint but if you want your slideshow to be more viewer-friendly you'll need a wider range of editing tools. Try SmartSHOW 3D and create a project that will truly engage with your audience!

5. Canva

This web app truly excels if you need to create a customized project. Canva provides you with lots of stock images, formatted text boxes and page layouts necessary to make an image-focused presentation. If you want to give your presentation a personal touch, upload your own photos, use more than one in any given design and arrange these elements however you wish. With a plethora of font styles, you can still customize them to your liking.

Accessible and engaging platform
Combines many cool features in one place
A large library of templates, icons, banners...
Fully customizable designs and templates

Some images are not free
Poor output options
Doesn't work in the offline mode

6. Powtoon

Powtoon is a presentation maker empowering you to create animated videos without any technical or design training. The program offers tons of images and templates to help you make a great presentation with a "modern edge" animation, infographics or cartoonish elements. Powtoon is a perfect tool for teaching purposes since it turns a simple click-through presentation into an interactive and yet informative movie.

Easy and fun to use
Pre-built templates to customize
Extensive content library
Record and add voiceovers
Presentations are saved automatically

Time-consuming to master
Slow file rendering
Limited free version

7. Microsoft Sway

Unlike its more famous cousin PowerPoint, Microsoft Sway focuses on the content of your presentation and showcases the necessary information in a nice organized way. For a start, add your texts, images, links and other data to the Storyline. Then, choose either standard slides or magazine-like scrolling layouts, and pick one of the built-in themes to fit your content into. Microsoft Sway offers an easy solution for those who need to turn a handful of notes and images into a unique presentation isn't forced into individual slides. It's free slideshow presentation software if you have a Windows Live account.

Extremely intuitive interface
Autosaves in case of glitches
Possible online collaboration
Provides relevant supporting images

Complex navigation
Not enough templates for a quick start

8. Haiku Deck

This template-based platform lets users create elegant and professional-looking presentations. Haiku Deck focuses on key ideas, finds stunning topic-related photographs from a library of 40M+ royalty-free images, and offers thousands of professionally designed templates to choose from. Although this tool is hosted online, you can still download the animated slide presentation you've been working on in .pptx format or as video with audio narration.

Fast onboarding process
Extended library of images
Easy access to all resources

No offline mode available
Limited customization options

9. Swipe

Need to make a slideshow presentation that will certainly engage the audience? Swipe can combine your YouTube videos, PDF reports, images and texts into a single educational unit. What's more, you can create a poll slide with multiple choice questions to get the viewer's feedback. If you share a link to your presentation at the beginning, attendees can scroll through PDF files and watch videos as you talk. They can also tap their response in your poll slides, and the answers will show up in real-time on the big screen.

Great visualization of static images
Markdown scripting of your content
Easy to share through URL
Ability to integrate polls

Needs Internet connection
Not enough typefaces

If you want to turn your little slideshow making hobby into a lucrative business, make sure to choose the best program. Here's our list of the best professional slideshow software to help you with your choice.

10. MediaShout

Unlike other slideshow tools in this list, MediaShout is a presentation software tool designed especially for religious institutions and churches of all types and sizes. This software is tailored for managing the media and productions during any religious service, particularly during the sermon. While using the program, you'll get access to 69 Bible versions, database of song lyrics, announcements and tweets management tools.

Scripture from 65 different Bibles
Ability to include sermon points
Built-in content library
Sounds and music enabled
Text customization options

30-days trial version
Monotone slide templates
Can be over-simplistic for other presentations

Side-by-side comparison of the programs

Can't make a choice? Here's a table that presents pros and cons of the programs above. Look it through and you'll see what features you can expect from each software.

Software name
Ready-made
templates
Slide animation
Custom texts
Video output
Offline mode
1. SmartSHOW 3D
Yes
Yes
Yes
Yes
Yes
2. Prezi
Yes
Yes
Yes
No
Limited
3. Adobe Spark
Yes
Preset
No
Yes
No
4. Google Slides
Yes
Limited
Yes
No
No
5. Canva
Yes
Yes
Yes
No
No
6. Powtoon
Yes
Yes
Yes
Yes
Yes
7. Microsoft Sway
Limited
Limited
Yes
No
No
8. Haiku Deck
Yes
Yes
Yes
Yes
No
9. Swipe
Limited
No
Yes
No
No
10. MediaShout
Limited
No
Yes
Yes
Yes

In a nutshell, the programs and online platforms listed above suit different needs and encourage different levels of creativity, but each of them can be a powerful tool in presentation creation. If you're seeking all-in-one software for showcasing key data and graphics, Haiku Deck or Prezi will be right for you. Do you want to try a more creative approach? Then opt for Powtoon and spice up your narration with stunning animation. Being a church goer, you will definitely like MediaShout and strong focus on religion. In case you want to put together a modern and streamlined presentation or an animated video that can be watched and edited offline, SmartSHOW 3D is your absolute must-have!

So what is finally the best software for slideshow presentation?

Making the final choice is never easy but once you've considered your options you can really pick the best tool just for YOU. Here we've presented different programs that serve various goals and come at various prices. They're all great in their own way and you won't regret choosing any of them. Just decide what you're going to do with such presentation software and pay only for the tools you really need. And if you want an all-in-one program at a moderate cost, you should definitely try SmartSHOW 3D that will be your weapon of choice for making both educational videos and entertaining slideshows.
Need to create a professional photo slideshow?
Get started with

SmartSHOW

3D!