Transition Wizard for SmartSHOW 3D
Transition Wizard is a powerful add-on for SmartSHOW 3D software. It lets everyone design their own slideshow transition effects. With this tool in hand, you'll get a chance to create jaw-dropping transitions that are absolutely unique to your slideshow project. Want to see how it works? Watch the video below to take a glimpse of Transition Wizard and see some awesome effects created with its help.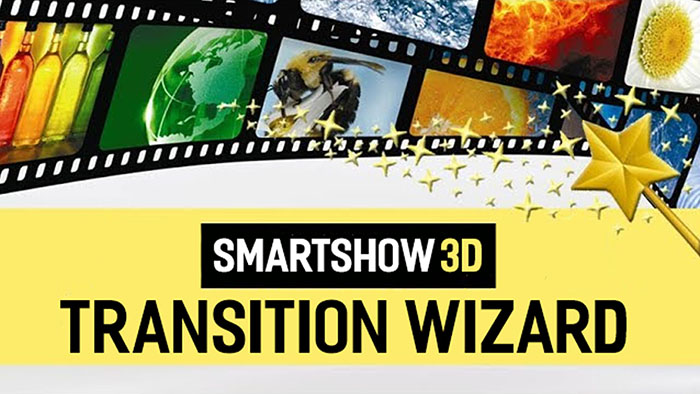 Get your copy of Transition Wizard at 40% OFF until November 30, 2020!
See what you can do with Transition Wizard: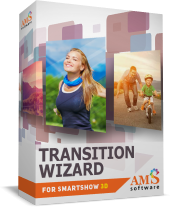 Create your own unique transition effects
Experiment with dozens of animation settings
Play with 100+ effects: highlights, glows, nature effects
Make transitions with additional layers, clipart & shapes
Save your transitions in SmartSHOW 3D & edit them any time
With Transition Wizard, you'll get a wonderful opportunity to unleash your creativity. Create exclusive transition effects that match the style and spirit of your slideshow! To get started, simply open the Transitions tab and click "Create Own Transitions".
Dozens of Animation Settings
Play with numerous animation settings to create an interesting motion path for your slides. Transition Wizard lets you work both with the starting slide (slide A) and with the final slide (slide B), enabling you to create unique fade-out and fade-in effects. Use animation keyframes and fine-tune any setting you need: animation mode, scale, position, opacity, shadow, and even 3D rotation.
Experiment with additional layers such as colorful shapes, cliparts, and GIF animations - this way, you'll make cute themed transitions.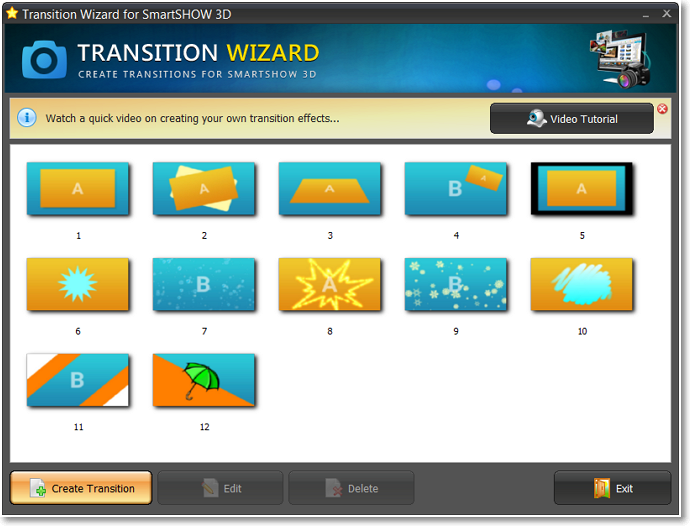 Impressive Effects for Transition Slides
Want to try something unusual? There's over a hundred special effects that you can use for your transitions: highlights and glows, sparkles, flashes, fireworks, explosions etc. Experiment with nature effects such as snowflakes, rain, or falling leaves - perfect idea for seasonal slideshows!
Your Personal Transitions Collection
All the effects you create will be added to your SmartSHOW 3D transition gallery - this means that you can use them in any of your future slideshow projects. Should you want to make some minor changes to one of your transitions, just open Transition Wizard to edit the effect.
Create your own themed transitions to make each of your slideshow movies truly unique!
Get started with Transition Wizard today!
*Offer good until November 30, 2020

Compatible with
Windows 10, 8, 8.1, 7, Vista, XP

Payment Options
Visa
Master Card
American Express
Discover
JCB
Diners Club
PayPal
Bank Transfer
Fast & Secure
The order process takes
less than a minute.
All transmitted data
is protected.