Family Collection of SmartSHOW 3D Templates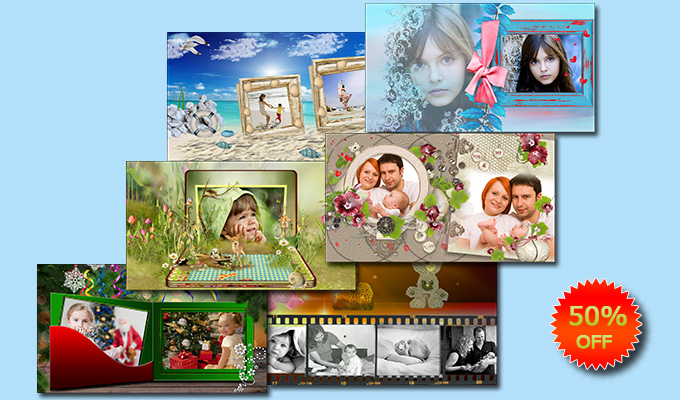 The Family Collection for SmartSHOW 3D comprises six best slideshow template sets perfectly suitable for family slideshow projects. Inside, you'll find a selection of exquisite slide styles for children, birthday, vacation, Christmas, and even family history slideshows - all in all, 70+ unique slide styles created by professional designers. Add these styles to your SmartSHOW 3D software to make dozens of beautiful family photo movies!
Order the Family Collection of slideshow templates at 50% OFF the regular price!
What does the Family Collection include?
"Our Family" Slideshow Templates are a perfect base for a family photo album. There are various slide styles to highlight every event of your family life - expecting a baby, teaching your toddler to walk and talk, visiting granny, celebrating anniversaries, going on vacation together... the list can go on forever!
"Happy Birthday" Slideshow Templates allow you to make sweet surprises for your closest people. An animated slideshow with their photos, gorgeously framed and embellished, will be the highlight of the birthday party. You can also make video birthday cards for family members who live faraway and send these by email!
"Merry Christmas" Templates will serve you well if you want to make a photo movie for your family get-together or a personalized seasonal greeting. This set combines bright slide styles in red and green, traditional for the Christmas palette, and elegant designs in pastel colors that make you feel the magic of the winter.
"Kids Photo Album" is a unique set of slide templates that look like an accordion fold book - a type of picture book adored by little kids. The photos of your kid will be surrounded by fairies, dwarves, and other characters that come alive in children's imagination. Great for creating a slideshow together with your kids!
"A Life Story" is a set of slides in vintage style, ideal for creating a family history slideshow, a touching anniversary present for parents, or a tribute for one of your ancestors. Tastefully selected animation effects will bring your old family pictures to life on the screen. There are also some bright styles for modern photos.
"Beach Vacation" slideshow templates are full of bright colors and shiny effects. Your travel and vacation pictures will look fantastic when turned into a sparkling slideshow with awesome 3D animation. Enjoy thinking back on sunny summer days while making your family vacation slideshow!

Compatible with
Windows 10, 8, 8.1, 7, Vista, XP
Payment Options
Visa
Master Card
American Express
Discover
JCB
Diners Club
PayPal
Bank Transfer
Fast & Secure
The order process takes
less than a minute.
All transmitted data
is protected.