Graduation Slideshow Ideas
Best Tribute to Your Student Days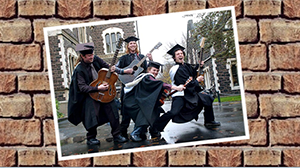 School days are one of the best periods in our life. Teachers and schoolmates, childish pranks and first love are so close and dear that you may not believe that soon a new page of your life story will open. All sunny and rainy school days will become history. One thing you can do to commemorate them is to record all your memories and share them as a present during the graduation party. The best way to do that is to make a graduation slideshow. Just imagine revisiting your school days while playing it at the party and experiencing the great time you had once again!
Now, what will you need for making a cool show? School photos, catchy music, and a piece of slideshow software. When it comes to choosing the software, try SmartSHOW 3D – this cutting-edge 3D slideshow maker is one of the best tools for creating photo & video slideshows with music and special effects.
Want to see an example? Bet you'll love this one! Click Play below to enjoy a rattling good graduation slideshow. It blends together photos, video clips, and animated text. Memorable pictures are brought to life with the help of shiny effects: camera flash, projector lights, filmstrip, 3D cube and more.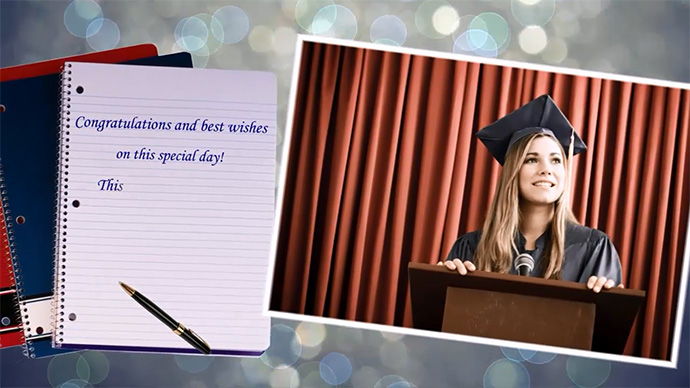 With SmartSHOW 3D, you can embellish your photos with artistic filters, insert elegant transitions between the slides and add captions in order to explain when this or that snapshot was taken. Because SmartSHOW 3D is user-friendly, you can create a slideshow in just half an hour and continue getting prepared for the prom.
School Years at a Glance
If you are pressed for time, the Slideshow in 5 Minutes option will help you out. Look through Modern Style templates, choose one, add photos and music, and that is actually all – your graduation slideshow is ready! It will surely touch everyone's heart, because professional designers worked on each template to achieve the best-looking result. To make the slideshow even more entertaining, add photos from cheerleading, acting and singing happenings or even PE and chemistry lessons!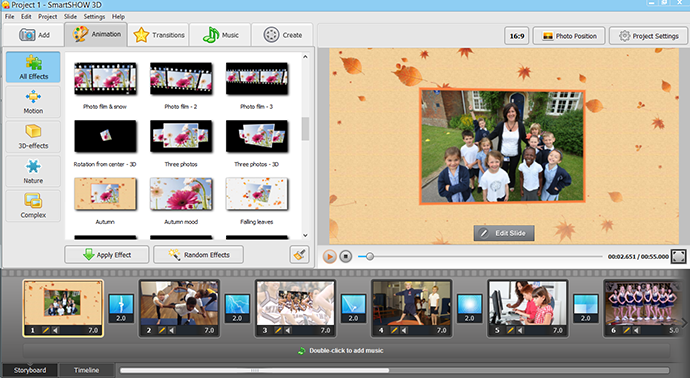 The Story of Growing Up
If you have enough time to create a slideshow from scratch, you can work individually with each slide. Take advantage of artistic Photo Filters, Animation and Slide Effects, Collages and Transitions. One of the graduation slideshow ideas is to create a chronological sequence of photos, starting with the pics of your first school days and finishing with the ones taken during the graduating year. Do not forget to add the photos of your teachers! When you finish the stage of composing and embellishing your slideshow, ask someone to watch it with you – this person will help you to identify if you added enough effects or if you overdosed them. Make your slideshow look harmonious and spectacular at the same time.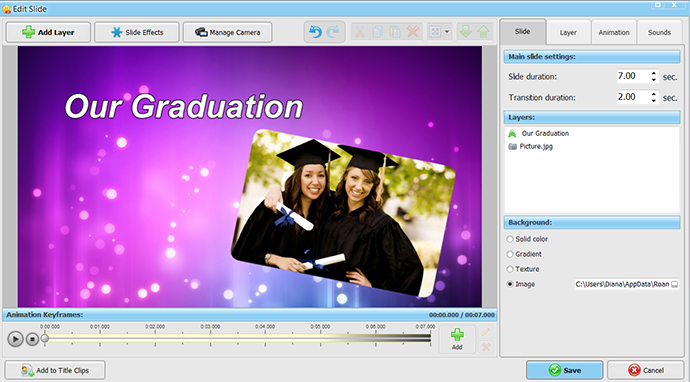 Songs for Graduation Slideshow
Depending on the style of your slideshow, choose a medium-paced or a fast-paced song. Remember that usually long videos with slow-paced music lull everybody to sleep, so try to avoid it. To help you out with the task of choosing the most suitable song for your graduation slideshow, here is a short list:
Katy Perry – "Firework"
Nickelback – "Photograph"
One Republic - "Good Life"
Green Day – "Waiting"
Birdy – "People Help the People"
Morcheeba – "Enjoy the Ride"
Kelly Clarkson – "Breakaway"
Louis Armstrong – "What a Wonderful World"
Theory of A Deadman – "End of the Summer"
and of course Queen – "We Are The Champions"
Comments Needed!
First, you will probably use subtitles to write the date of the events pictured. What is more significant, you have to use them for children's photos. Omit the captions for group photos, but write the name of the child if he is alone in the shot. Make sure nobody mixes him or her with another kid.
In addition to subtitles, you really should take advantage of SmartSHOW 3D option to record sound and insert it right into the slideshow. Collect all your jokes, legendary catchwords or give short explanations to the photos. Using the Timeline, place your comments on top of the music, so that it is played at the background of the recorded message. Adjust the volume of both audio tracks; do not let the music be louder than the voice comments, otherwise nobody will be able to hear them.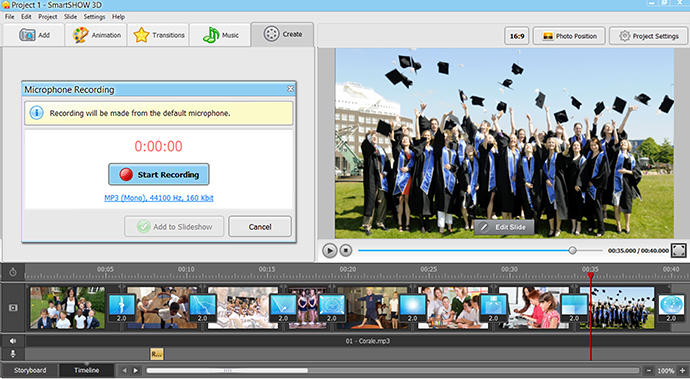 Last, but not the least thing you should do is to make slideshow video in HD quality. You can play such a slideshow in the background of a speech on a loop or at a key time during the graduation party so that everybody pays attention to it. Surely, slideshow is a creative and easy way to celebrate any event, but it is best to keep it under 4 minutes long – otherwise you can just lose the guests' attention. And you have to get prepared – soon after the party, everybody will be asking for a copy of the slideshow. You can prepare a web-optimized version and upload it to Facebook, or make a bunch of DVDs to give out.
Impress your classmates and teachers with a stylish and amusing memento that they will treasure for a lifetime!

Get creative with
SmartSHOW 3D !
Want to make stunning photo movies with your own pictures? That's as simple as ABC with SmartSHOW 3D software!
Compatible with
Windows 10, 8, 8.1, 7, Vista, XP
Our Users Say:
I shoot weddings for a living, and often make wedding and love story slideshows for my clients. I used to do that with Windows Movie Maker, but then I came across SmartSHOW 3D and realized the immense potential of photo slideshow. This software now helps me do incredible things with my photos. Lots of thanks from happy clients!
I love making movies from our family and travel photos. Have tried a number of slideshow makers, but this one is something special. All kinds of fascinating effects and animation, music and voiceover, and excellent quality video in the end! Never thought I'd learn to make SUCH movies myself one day.

Need to create a professional photo slideshow?
Start now with

SmartSHOW

3D!