Working with Animated Subtitles and Title Clips
When it comes to sharing photographs, many people ask themselves – how to do that in a stylish and original way? The answer is rather simple: make a slideshow with your photos! It will certainly take a little bit of effort to create a really stunning project, and of course a powerful slideshow making program comes in handy.
Unleash your creativity with SmartSHOW 3D – a professional slideshow maker, and make amazing photo movies with unique special effects. Speaking about a perfect slideshow, an important part of it are title clips and subtitles. They let the viewers get the overall idea of the movie, they introduce and finish the show and provide some comments in-between. Read on to learn how to make a slideshow with animated subtitles and title clips.
Stylish title clips
SmartSHOW 3D app offers you a collection of title clips. With their help you can introduce your slideshow to the viewer, specifying the title of the project, the name of the author and other important information. Title clips can be used to divide a project into logical parts or chapters, just like in our favorite books.
You'll find static and animated title clips in SmartSHOW 3D collection. While the static ones are rather simple and obvious, animated title clips can be a real deal – the photos and text captions on the slide can move in space, fly in or slowly dissolve, which looks pretty awesome. To apply any of the title templates, simply click on the effect you like and drag it down to the timeline.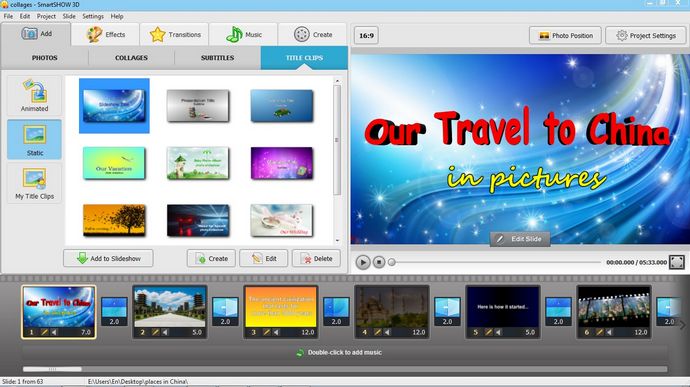 Fancy animated subtitles
Subtitles are a special type of title clips in SmartSHOW 3D. They are usually used to display different kinds of comments or notes for certain slides. For example, your slideshow theme is travelling to a foreign country. Use subtitles to explain what is going on or make an interesting remark. Subtitles can be animated as well. You can either use a template from the subtitles collection, or make your own from scratch.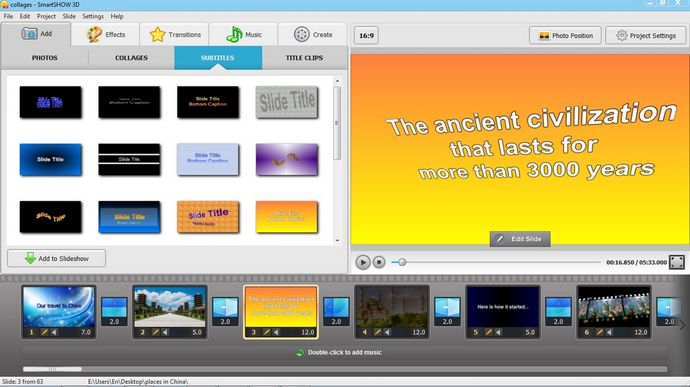 Making your own title clip
A nice thing about SmartSHOW 3D is that it has a convenient Slide Editor, granting you full control of the slide and objects on it. To access the editor, right-click on the slide you want to edit and click Edit Slide. You can add both simple and 3D text, with lots of customizable settings. Both types of text share some options, such as position, opacity, rotation (including 3D) and scale. In addition to these, 3D text has its unique features: different types of text warping – curve, wave, emboss with adjustable scale, and the lighting effect, which looks fantastic with colored text.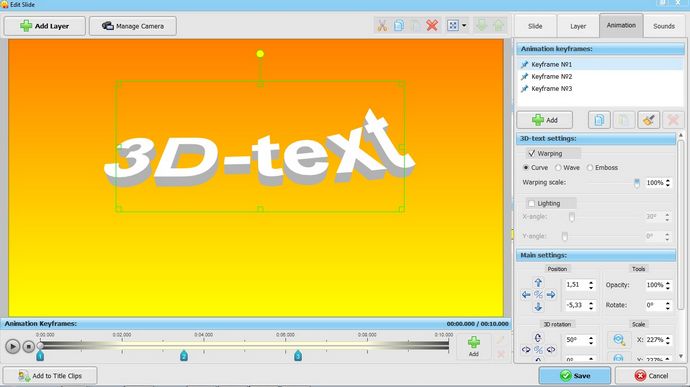 Open the Animation tab to create animation for each of the text layers you have added. You can use different types of slide animation - Constant speed, Smooth, Speed up / Slow down, or try original Push out and Bounce off modes. Any animation type is set with the help of keyframes. For each keyframe you set the size, position and other settings of the object you are working with.
All in all, title clips make an important part of your slideshow. They help to get the general idea and enhance the overall experience. SmartSHOW 3D is a great helper in how to make a slideshow question, so don't hesitate to check it out now, and make your slideshow projects even better!

Get creative with
SmartSHOW 3D !
Want to make stunning photo movies with your own pictures? That's as simple as ABC with SmartSHOW 3D software!
Compatible with
Windows 10, 8, 8.1, 7, Vista, XP
Our Users Say:
I shoot weddings for a living, and often make wedding and love story slideshows for my clients. I used to do that with Windows Movie Maker, but then I came across SmartSHOW 3D and realized the immense potential of photo slideshow. This software now helps me do incredible things with my photos. Lots of thanks from happy clients!
I love making movies from our family and travel photos. Have tried a number of slideshow makers, but this one is something special. All kinds of fascinating effects and animation, music and voiceover, and excellent quality video in the end! Never thought I'd learn to make SUCH movies myself one day.

Need to create a professional photo slideshow?
Start now with

SmartSHOW

3D!