Mother's Day Slideshow Ideas, Quotes, and Songs
When our mothers are concerned, we all do our best to take care of them with all the ingenuity we can muster. Mother's Day is the day when we want to give our mothers something really special. Nobody doubts that each mother deserves a touching and personal memento. The best gift for Mother's Day can be a photo slideshow with your family pictures, embellished with animation effects and supported by a suitable song. With the help of a Mother's Day slideshow you can say "I love you!" in a way that just cannot be forgotten.
If you want to create a unique and professional-looking slideshow, make use of smart slideshow software available here. It offers ready-made templates and animation effects that are easy to apply and to customize. You can even record comments with your microphone and insert them into the slideshow. When you play the video on Mother's Day, you will see happy tears running down your mother's cheeks - isn't that terrific?
Mother's Day Slideshow Theme
If you are pressed for time, there is no better way than using the Mother's Day slideshow theme. You just need to add the photos and music, and your slideshow is ready! Thus, the slideshow making process will take only 5 minutes of your time. Of course, you can customize the details in the slide editor, and you'll obviously want to add some captions with your own words. Export you slideshow in full HD quality and play it during your family party, or send it to your mother by e-mail if she lives far away.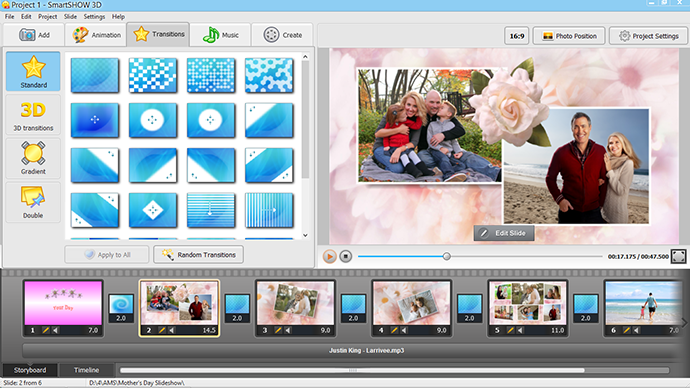 Making Slideshow from Scratch
Another option is to create a unique slideshow designing each slide individually. Thanks to the intuitive interface of the software, even a beginner can do that. You can add collages if you want several photos to float graciously across one slide. The animation effects can make your Mother's Day slideshow so spectacular that everybody will think you ordered it from a professional designer. Try different transitions to select the one that works best for each slide. In the end, add a title clip with some moving quote or a love message.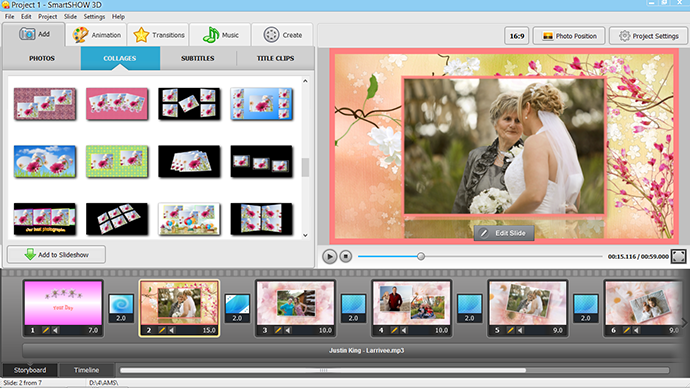 Mother's Day Quotes
The best gift for mother's day cannot be something material. As we all know, mothers value our attention more than everything in the world. So why not give her some? Mother's Day quotes are the words of love and tenderness that you can put at the beginning, in the middle, or at the end of your Mother's Day slideshow. You can use title clips or you can go to the slide editor and add a text layer with your message right onto the photo. Let us just give you some Mother's Day quotes to start with:
Mother is the name for God in the lips and hearts of little children (William Makepeace Thackeray)
Life began with waking up and loving my mother's face. (George Eliot)
Are we not like two volumes of one book? (Marceline Desbordes-Valmore)
A mom's hug lasts long after she lets go. (Author Unknown)
All that I am or ever hope to be, I owe to my angel mother. (Abraham Lincoln)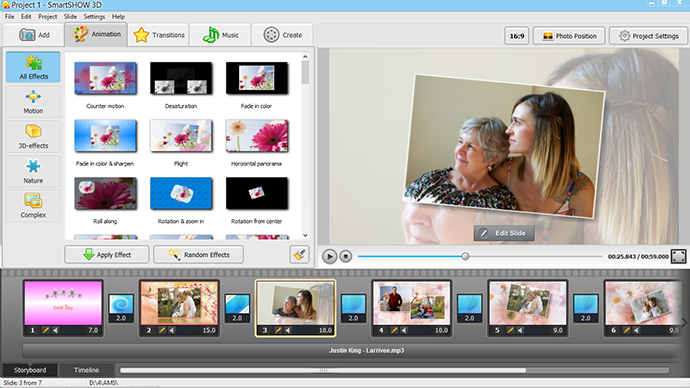 Mother's Day Songs
Depending on the style of your slideshow, choose a suitable song. It can add a cherry on top and serve as a soothing or inspiring tool for your Mother's Day slideshow. First, decide upon the tempo – for a moving video, select some slow-paced music, for a funny and dynamic one choose a fast-paced tune. Here are some of the most popular Mother's Day songs for you to choose:
Celine Dion - Because You Loved Me
Backstreet Boys – The Perfect Fan
Whitney Houston - Greatest Love of All
Elvis Presley – Mama Liked the Roses
Ozzy Osbourne – Mama, I'm coming home
Christina Aguilera - I Turn to You
Barbara Streisand – Memory
Elton John – Blessed
The final tip is to aim for a slideshow about four minutes long. If you make it longer, the people who will watch it can get bored. Play your Mother's Day slideshow at a surprise party or at a family dinner. It will surely impress your mother and other guests as well. Make your mother happy with a touching music slideshow!

Get creative with
SmartSHOW 3D !
Want to make stunning photo movies with your own pictures? That's as simple as ABC with SmartSHOW 3D software!
Compatible with
Windows 10, 8, 8.1, 7, Vista, XP
Our Users Say:
I shoot weddings for a living, and often make wedding and love story slideshows for my clients. I used to do that with Windows Movie Maker, but then I came across SmartSHOW 3D and realized the immense potential of photo slideshow. This software now helps me do incredible things with my photos. Lots of thanks from happy clients!
I love making movies from our family and travel photos. Have tried a number of slideshow makers, but this one is something special. All kinds of fascinating effects and animation, music and voiceover, and excellent quality video in the end! Never thought I'd learn to make SUCH movies myself one day.

Need to create a professional photo slideshow?
Start now with

SmartSHOW

3D!