Spring Collection of SmartSHOW 3D Templates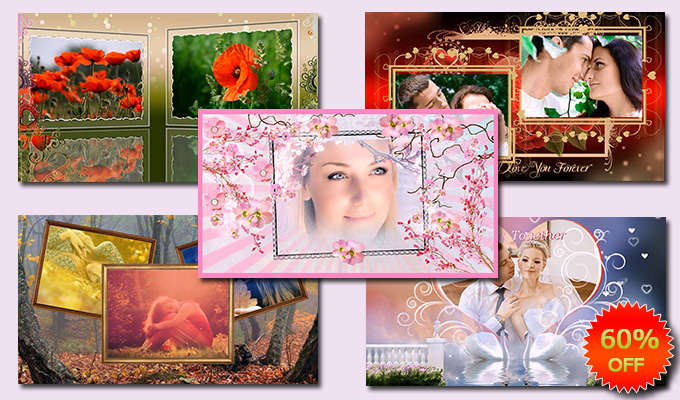 The Spring Collection of SmartSHOW 3D templates comprises five best designer stylepacks, great for framing spring photos and for creating romantic photo movies. There is a variety of slide designs for presenting beautiful portraits and landscapes, as well as a selection of exquisite slide styles for wedding and love story slideshows. All in all, there are 60+ gorgeous slide styles created by professional designers, and you are free to combine these styles any way you like to create hundreds of unique projects. Add the spring templates collection to your SmartSHOW 3D software and make delightful photo movies!
Order the Spring Collection of templates at 60% OFF its regular price!
What does the Spring Collection include?
The "Spring Spirit" templates are a perfect base for presenting lovely portraits from your spring photo shoots. Blossoming tree branches, floral frames, and pastel backgrounds are ideal for spring photographs.
"Love Story" Slideshow templates give you a chance to say "I love you" using photos and music. A love story slideshow can be a touching surprise for your couple's anniversary, engagement, wedding, His or Her birthday, Valentine's Day... the list of occasions is endless, but do you really need an occasion to make a gift of love?
Wedding Reception Slideshow templates will help you make un unforgettable video for the great day or an adorable wedding photo album on DVD. Classic elegance and delicate design never go out of fashion.
"The Four Seasons" templates, inspired by Mother Nature, emphasize the charm of every season. They will serve you well throughout the year every time you return from a photo shoot with plenty of pictures to show.
Elegant Slide Styles offer a fantastic blend of professional animation effects and stylish decorations. They can be used for making a video postcard, a travel slideshow, a photography portfolio, and other creative projects.

Compatible with
Windows 11, 10, 8, 7
This template is designed to be used with SmartSHOW 3D slideshow maker
Payment Options
Visa
Master Card
American Express
Discover
JCB
Diners Club
PayPal
Bank Transfer
Fast & Secure
The order process takes
less than a minute.
All transmitted data
is protected.