Graduation Slideshow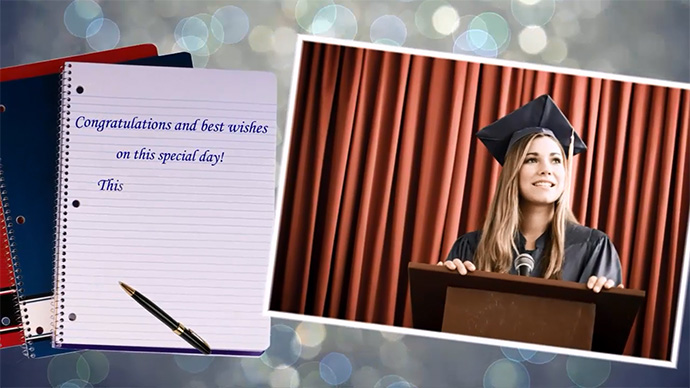 Here's what graduation albums of the future will look like! This rocking video was created with SmartSHOW 3D - powerful multimedia slideshow software packed with fantastic animation effects.
SmartSHOW 3D provides endless opportunities for those who are keen on photo & video montage. No matter what the occasion is, this powerful multimedia software will provide all you need for creating jaw-dropping presentations. A slideshow for your school website, a stylish video greeting card, an exciting football game report - projects like these become easy and fun thanks to SmartSHOW 3D.
Discover a huge variety of resources that come with SmartSHOW 3D. Hundreds of ready-to-use slide templates; 3D animation for photos, videos, and text; the ability to mix music, voice narration, and sound effects – there's all you might ever for creating extraordinary multimedia presentations.
More about this graduation slideshow
Traditional graduation photo albums are gradually becoming a thing of the past, making way for spectacular multimedia slideshows. Today's technology allows for mixing pictures, videos, and microphone recordings in the same project - a presentation like this will keep immensely more memories and moments than any paper-based album. The graduation slideshow presented here is a perfect example of a multimedia presentation. Impressive effects like camera flash and projector lights emphasize the triumphant spirit of the graduates.
Want to watch more slideshows?
Anniversary Gift for Girlfriend
Graduation Slideshow Templates

Get creative with
SmartSHOW 3D !
Want to make stunning photo movies with your own pictures? That's as simple as ABC with SmartSHOW 3D software!
Compatible with
Windows 10, 8, 8.1, 7, Vista, XP

Our Users Say:
I shoot weddings for a living, and often make wedding and love story slideshows for my clients. I used to do that with Windows Movie Maker, but then I came across SmartSHOW 3D and realized the immense potential of photo slideshow. This software now helps me do incredible things with my photos. Lots of thanks from happy clients!
I love making movies from our family and travel photos. Have tried a number of slideshow makers, but this one is something special. All kinds of fascinating effects and animation, music and voiceover, and excellent quality video in the end! Never thought I'd learn to make SUCH movies myself one day.

Need to create a professional photo slideshow?
Start now with

SmartSHOW

3D!